Grass doesn't grow under the feet of Dr. William McArthur, mathematics and computer science professor emeritus. And it has nothing to do with the fact he lives in Cape May, New Jersey.
Sometimes just reading about his activities is tiring. His most recent musing on his web site http://www.capemaybeach.net/ chronicles a trip to Key West where in addition to vacationing he ran a 10K race. Similarly in the fall, he and wife Cathy joined daughter Katie and husband Tom for a 12-day adventure in Switzerland, Austria, and Germany. Training for the trip entailed 20-mile bike rides and 6-mile walks. Once in the mountains, the group would hike eight or more miles before settling back in their hotels.
Inactivity is not a word in Bill's vocabulary. Since moving to Cape May, he has taught at Richard Stockton College, serves as kayak guide for Aqua Trails, is a research associate for the Center for Inland Bays, is the webmaster for Cape May Beach, and started his own business.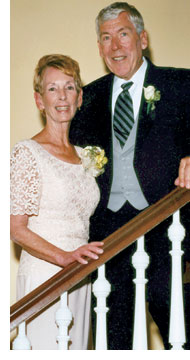 Usually outfitted far more casually, Bill is captured in a rare moment. Here he and his wife Cathy beam with pride on the ocassion of their son's recent wedding.
All year round he is a familiar sight kayaking in the Delaware Bay, the ocean or the inland salt marshes, riding his mountain bike on roads near the water, and jogging or taking long walks on barrier island beaches.
And if it just happens to snow, he breaks out his skis for a cross-country jaunt. Indoors he confines himself to aerobic classes. And for leisure, he is the number caller at the Friday Night Bingo games. For quiet times, he reads, often re-reading books he likes over and over.
His webmaster duties entail posting hundreds of photographs dedicated to the beauty of the area he calls home. The site also includes information on local attractions and other items of interest to visitors. His business, Computing Doc, offers computer services to individuals, businesses, and schools for their software problems, designing web sites, and offers training.
Asked in an interview to describe himself, Bill replied, "I have a lot of interests and a lot of energy, and I care a lot about my family." It shows.