Bill and Cathy McArthur Spring/Summer/Fall 2009: 19
Monday, September 14 , was supposed to be a fairly calm day. Bill arose at 4:30 AM and started looking at forecasts and the wind at Brandywine Shoal. The forecasts were better than the reality. Bill found that the north wind was around 15 mph and gusts to about 20 mph, much too much to consider going. Bill called Joe and then Jason to get their confirmation of another cancellation. Bill did 3 crossword puzzles and headed south in his kayak at around 9:00 AM, 2 hours later than the supposed launch for Jason's swim. He found the conditions down to the canal to be almost as bad as the previous morning, except this time he could see. He shot some videos (vids:1,2,3,4,5) as he paddled around past the lighthouse and then headed back to land at a bit after noon. While kayaking, Bill thought a lot about the swim and made the following comments and suggestions via email to Joe and Jason:
The swimmer should launch from Higbees Beach instead of Douglass Park. This removes any surf from north or northwest wind and makes for a shorter course as well. There is a small parking lot next to the Canal with a porta-potty.

Light north, northwest, or west winds provide the best conditions. An east or southeast wind is horrible on the ocean leg and a northeast wind is almost as bad. A southwest wind is better than a south wind, but either one makes for rough seas on the ocean leg. I think that 10 mph (8.6 knots) is an upper limit for sustained wind and gusts.

Two kayakers is not enough. If one of the kayakers has a problem, the other kayaker might have to abandon the swimmer temporarily, an intolerable situation.

At least one of the kayakers should carry a lifeguard float attached to a line.

Launch time should be scheduled no earlier than 10:00 AM so that the morning call can happen at 8:00 AM while it's light and the water has had a chance to settle down for the day. We should look for low tide at the inlet mouth for around 1:00 PM with slack tide around 2:00 PM.

We should agree on an acceptable % chance of T-storms. For a crossing, we demand 0%, but for a circumnatation, a higher value maybe tolerable.

We should try a few practice swims to get used to providing kayak support.
Cathy had gone to the gym and had talked to Joe about giving him some of our extra beer, so Joe stopped by while Bill was in the shower. After lunch, Bill worked on final preparations for our trip and also on the videos that he took on the kayak paddle. Cathy took a walk to Harpoon Henry's. Bill made a cappuccino and made another quinoa dinner with dates and walnuts. Cathy had a frozen meal and a bit of Bill's concoction. Bill finished up his preparations for the trip and headed to bed with an alarm set for 5:30 AM.
Tuesday, we got up at 5:30 AM and were out of the house at 6:07 AM (7 minutes late due to Bill's slowness). We drove to Starbucks in Rio Grande for breakfast, where Bill enjoyed a cappuccino and oatmeal; Cathy had a latte and coffee cake. We bought a couple of newspapers for the road and headed north on the Parkway. We made good time with a couple of slowdowns around Forked River, NJ and Hartford, CT. We heard along the way that Tom and Jean had a brake go bad and had to stop a a truck stop near Paramus, NJ to get it fixed. They lost about 6 hours on their trip. We stopped for lunch at a rest stop past Hartford where Cathy made fruit. We made it to the Sea-Vue Campground in Wells, ME by 3:30 PM. We had an ocean view from our dinette. After settling in, we took a walk across a salt marsh to Wells harbor. On the way, we stopped in at a popular lobster pound, the Fisherman's Catch, to put our name on their list. Then we walked to the harbor. When we got back to the restaurant, there was a big group of people waiting to sit, but the hostess seated us immediately. We had a typical Maine dinner of clam chowder, crumb baked fresh haddock, lobster salad, and blueberry pie ala mode. We had a beautiful view of the salt marsh from our table. It felt great to be back in Maine! We walked back to the campground and connected the computer to wi-fi. Tom and Jean called around 8:00 PM from the office. It was a long, long day for them, but they got settled in quickly. Bill took a hot shower and read the beginning of "The Lost Symbol" which had been downloaded to his Kindle app on the iPhone earlier in the day. Bill was enthusiastic about the book right away.
Wednesday morning was chilly as Bill went out for a 5K run a bit after 6:00 AM. He headed south on Route 1 and then partway down the causeway to Wells Beach. He also walked for 2 miles. When Bill got back to the RV, Cathy had the heater and the coffeepot on. We enjoyed breakfast with a view of the ocean. Later in the morning we went for a walk down to Wells Harbor with Tom and Jean. Then we unhooked our RV and the four of us started out on a tour of this Southern Maine area. We drove to Wells Beach first. The day became beautiful as the clouds disappeared. Next, we drove to Ogunquit and looped down to the beach. Then, we drove through York Beach and to Cape Neddick Nubble lighthouse. After a photo stop, we drove to the Cape Neddick Lobster Pound and enjoyed a good lunch with a good water view. Bill and Cathy split a bowl of clam chowder and a lobster roll. Next, we drove back to Ogunquit and parked the RV near Perkins Cove. We walked the Marginal Way back over towards the beach. We stopped for ice cream and coffee in downtown Ogunquit before walking back on the Marginal Way. We browsed around Perkins Cove for a while and stopped for blueberry pie and coffee. We walked back to the RV and drove to Lord's Harborside Restaurant in Wells Beach where we had a great dinner with a view of the salt marsh. Bill forwent seafood for dinner and settled for linguini with red sauce. Cathy had a baked haddock casserole. Finally, we drove back to the campground and rehooked the RV. Bill got our TV working.
Thursday, we started with a 3 mile walk, including a stop at Rite-Aid in Wells. Both RVs got on the road at about 10:00 AM. We took I95 and I295 until Brunswick and then switched over to Route 1. We stopped at Camden and had a scenic lunch on the back deck of Marriner's Restaurant. Bill had a double stack of blueberry pancakes, while the others had haddock soup and lobster rolls. Bill and Cathy arrived at the Narrows Campground at about 3:30 PM. They had to switch sites to get one that was nearly level. Tom and Jean picked up a rental car at the Bar Harbor airport on the way to the Campground. We drove into Bar Harbor to meet with Dick and Lynn, friends and neighbors of Tom and Jean. We all walked to the Bluefish Grill and had great meals. Jean was too tired to drive up to Mt. Cadillac, so we headed back to the campground.
Friday we four drove in the rental car to the Acadia Visitor Center. From there, we drove on the Park Loop Road to the Bear Brook Trailhead. Cathy and Jean started hiking up the trail while Bill and Tom walked to the Precipice Trailhead and then ascended that trail. We all met at the summit of Champlain Mountain and hiked down the Bear Brook Trail. Then, we went back to Bar Harbor for lunch at Quarterdeck Restaurant. We continued along the loop road to Sand Beach, Thunder Hole, Otter Cliffs, Wildwood Stables, and the Jordan Pond House. Then we drove onto the "bar" and beachcombed for a while. We stopped by the YMCA for Bill's packet for the 5K on Saturday. We had coffee on Cottage Street and ate dinner at Guinness and Portcelli's Italian Restaurant. Bill had gnocchi to prepare for the next day's 5K race. We didn't go up on Cadillac Mountain again.
Saturday was chilly and very windy. Around 4:45 AM, Bill decided that doing the Precipice Trail on Friday meant that he couldn't run a good 5K; also, the T-shirt for the run was just an ad and had no mention of the date or the place or the race itself. This meant that it wasn't worth the hassle of driving the RV into town at 6:00 AM, so Bill slept-in until almost 7:00 AM. We got going around 10:00 AM and all started up the Cadillac South Ridge Trail. About a mile up, Jean headed back down to drive the rental car to the summit. The other three hiked to the summit and met Jean up there. We drove to the West Street Cafe for lunch. We wandered around Bar Harbor for a while after lunch and did some shopping. Then, the others dropped Bill at the Sand Beach parking lot. They headed off to mass. Bill hiked up the Beehive, went to the Bowl, and headed up the Champlain Mountain Trail. He turned around short of the summit and hiked down the Bowl Trail. Then he walked to Thunder Hole on the Ocean Trail. He had hiked for 5.4 miles by the time he met the rest of the crew in the Sand Beach parking lot. We drove into Bar Harbor and ate dinner at Chowdah's. Our good meal was topped off by the best blueberry pie in the universe (or so it seemed after all of the hiking). We drove to the summit of Cadillac Mountain on the way back to the campground.
Sunday started with a relaxing morning. Bill and Cathy went out for a walk/run. Cathy walked almost 6 miles; Bill ran for 5 miles with negative splits and walked for about 3 miles.

We all drove to Northeast Harbor and ate a good lunch at Colonel's Restaurant and Bakery. Then we drove to Wildwood Stables and took a 2 hour carriage ride highlighting some bridges on the Rockafeller property near Seal Harbor. Afterward, we drove over to the Jordan Pond House. Cathy and Jean walked the 3.6 mile trail around the pond. Bill and Tom hiked the Jordan Cliffs Trail to the summit of Mt. Penobscot. Then they hiked down the Penobscot Mountain Trail. At some point they got on the Spring Trail, which didn't appear on Bill's trail map or on the topo map on the eTrex GPS. They came to a carriage path and started walking downhill on it. After a while, Bill checked his GPS and found that they were walking the wrong way. They returned to the Spring Trail and headed down on it. This led them back to the Jordan Pond House. They arrived after sunset and Bill used his headlamp for the last bit of the journey. It was a 3.8 mile hike, done at about 2 mph: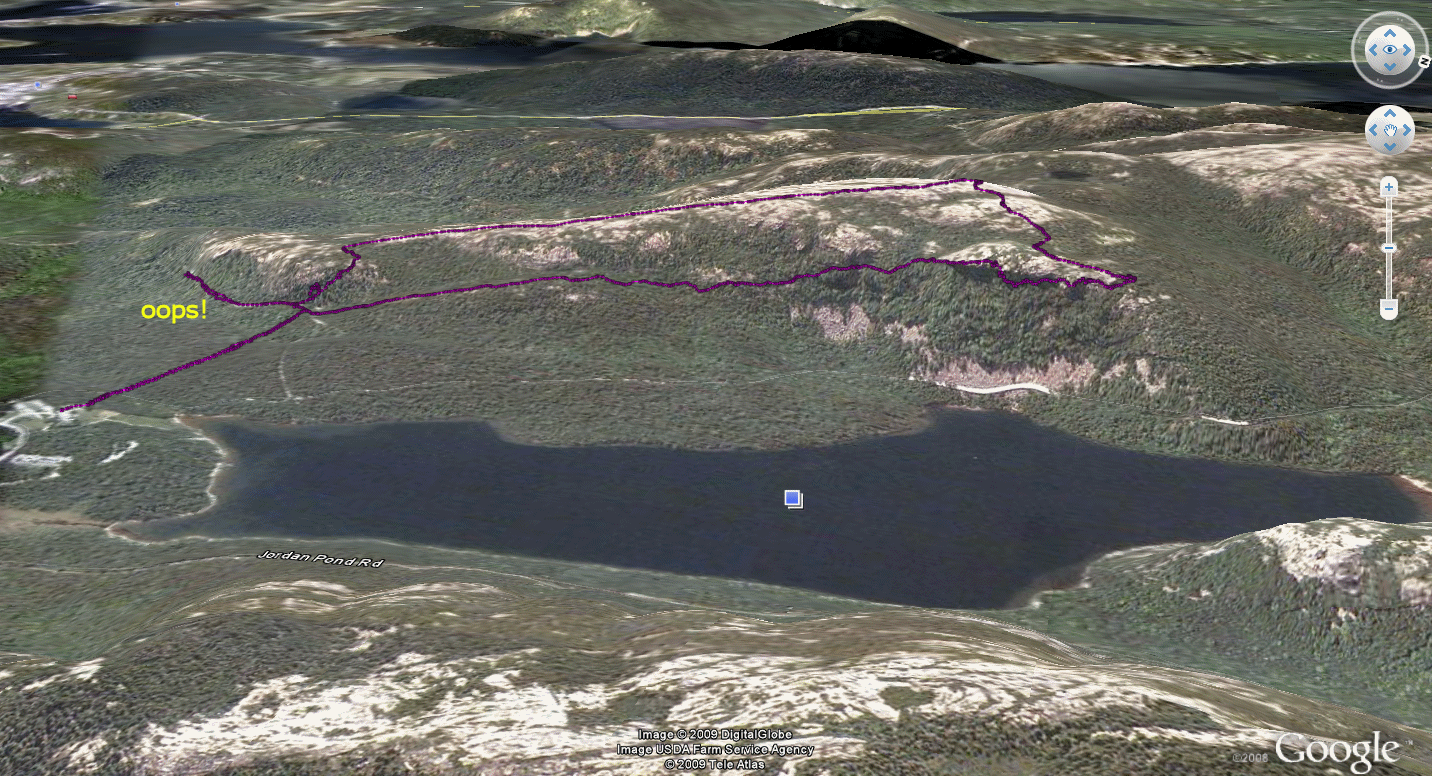 We all ate dinner in the Jordan Pond House. Bill made out the best with a penne pasta entree. We all made out with a delicious Blueberry Crisp for dessert. We got back to the campground around 8:30 PM.
Bill and Cathy